iPhone and iPad users are increasing day by day as reports saying and of course this results into high demand of Astronomy Apps for iPhone. There are lots of astronomy apps available for iPhone and iPad from basic or learning level to moderate and advanced level. Much of them are free but premium apps have extra functions and facilities which generally lacks in free.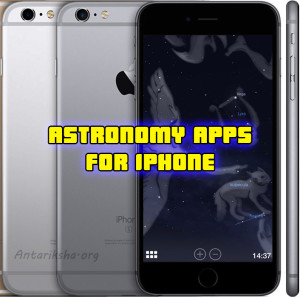 For star gazing, there are apps which provides simulated sky map i.e., the position of stars, constellations, planets, galaxies, nebulae with respect to time and location. Satellite tracking can also possible by using these apps and their huge database. It can easy to spot bright and visible satellites like Hubble, ISS along with Iridium flares. There are some apps specially designed for kids which increase curiosity about space and astronomy with interesting games and fun facts.
For moderate and advance level, there are apps for telescope tracking, aligning with more accuracy. These astronomy apps also provides even minute factors like deep sky object with angular dimensions, RA-Dec, Latitude-Longitude etc. Some apps are designed for study of solar system objects with their details. Such apps also provide information about space missions and stunning images captured by various telescopes.
| Image | Name | Price | iphone | ipad | Link |
| --- | --- | --- | --- | --- | --- |
| | A Starry Night | Paid | Yes | Yes | |
| | Astro Kit | Free | Yes | No | |
| | Astronomy Picture of the Day | Free | Yes | Yes | |
| | AU: The Solar System | Paid | Yes | No | |
| | Beyond Planet Earth Augmented Reality | Free | Yes | No | |
| | Celestron SkyPortal | Free | Yes | Yes | |
| | Comet Quest | Free | Yes | Yes | |
| | Cosmic Discoveries | Free | Yes | No | |
| | Dark Sky Meter | Paid | Yes | No | |
| | Distant Suns(max): Because half the day is night. | Paid | Yes | Yes | |
| | Distant Suns: The new way to look at the sky | Paid | Yes | Yes | |
| | Earthlapse | Free | Yes | Yes | |
| | Earth-Now | Free | Yes | Yes | |
| | Galaxy Collider | Paid | Yes | Yes | |
| | GoISSWatch - International Space Station Tracking | Free | Yes | Yes | |
| | GoSkyWatch Planetarium | Paid | Yes | Yes | |
| | GPS Astro | Paid | Yes | Yes | |
| | GRAIL | Free | Yes | No | |
| | iFlares | Paid | Yes | Yes | |
| | ISS Spotter | Free | Yes | Yes | |
| | Jupiter Guide | Free | Yes | No | |
| | Live Sky | Free | Yes | Yes | |
| | Mars Globe HD | Paid | Yes | Yes | |
| | Midnight Planets | Free | Yes | Yes | |
| | Mijn Hemel | Free | Yes | Yes | |
| | Moon Globe HD | Paid | Yes | Yes | |
| | NASA | Free | Yes | Yes | |
| | NASA Be A Martian | Free | Yes | Yes | |
| | Night Sky 4 | Paid | Yes | Yes | |
| | Outland - Space Journey | Free | Yes | Yes | |
| | Planetarium | Paid | Yes | Yes | |
| | Pluto Safari | Free | Yes | Yes | |
| | Pocket Universe: Virtual Sky Astronomy | Paid | Yes | Yes | |
| | Polar Scope Align Pro | Paid | Yes | Yes | |
| | Polar Scope Align Pro Watch | Paid | Yes | Yes | |
| | Satellite Insight | Free | Yes | Yes | |
| | Satellite Safari | Paid | Yes | Yes | |
| | SDO Viewer - the sun in your pocket | Free | Yes | Yes | |
| | Sky Guide: View Stars Night or Day | Paid | Yes | Yes | |
| | Sky Live ™ - Clear Dark Nights & Heavens Above | Paid | Yes | Yes | |
| | Sky Map | Free | Yes | Yes | |
| | SkySafari 4 Plus: Map the Universe! Discover Sun, Moon, Mars, Stars, Planets, and Satellites with your telescope and NASA space missions! | Paid | Yes | Yes | |
| | SkySafari 4 Pro: Professional Telescope Astronomy! Explore Sun, Moon, Mars, Stars, Planets, and Satellites! Go where NASA space missions have not! | Paid | Yes | Yes | |
| | SkySafari 4: Journey into Night! Explore Sun, Moon, Mars, Stars, Satellites, and NASA space missions! | Paid | Yes | Yes | |
| | SkySafari 5 | Paid | Yes | Yes | |
| | SkySafari 5 Plus | Paid | Yes | Yes | |
| | SkySafari 5 Pro | Paid | Yes | Yes | |
| | SkyView® - Explore the Universe | Paid | Yes | Yes | |
| | Solar Walk™ - Planets System, Orbits, Moons & Size | Paid | Yes | Yes | |
| | Space Images | Free | Yes | Yes | |
| | Space Museum by Solar Walk | Free | Yes | Yes | |
| | Spacecraft 3D | Free | Yes | Yes | |
| | Star Rover - Stargazing and Night Sky Watching | Paid | Yes | Yes | |
| | Star Walk ™ for Kids: Learning Astronomy and Space | Paid | Yes | Yes | |
| | Star Walk™ 2 - Night Sky Map of Stars & Planets | Paid | Yes | Yes | |
| | Star Walk ™ - View Stars, Planets & Night Sky Map | Paid | Yes | No | |
| | Stargazers | Paid | Yes | Yes | |
| | Starlight - Explore the Stars | Paid | Yes | Yes | |
| | StarMap 3D+: Night Sky, Astronomy, Star View Guide | Paid | Yes | Yes | |
| | Stellarium Mobile Sky Map | Paid | Yes | Yes | |
| | Voyager: Grand Tour | Free | Yes | Yes | |
| | xSky | Paid | Yes | Yes | |